Wild Willpower PAC filmed this hour long DVD with Ethnobotany & Wilderness Survival Expert Richard Lonewolf in 2012 along the Kern River at Hart Park, California.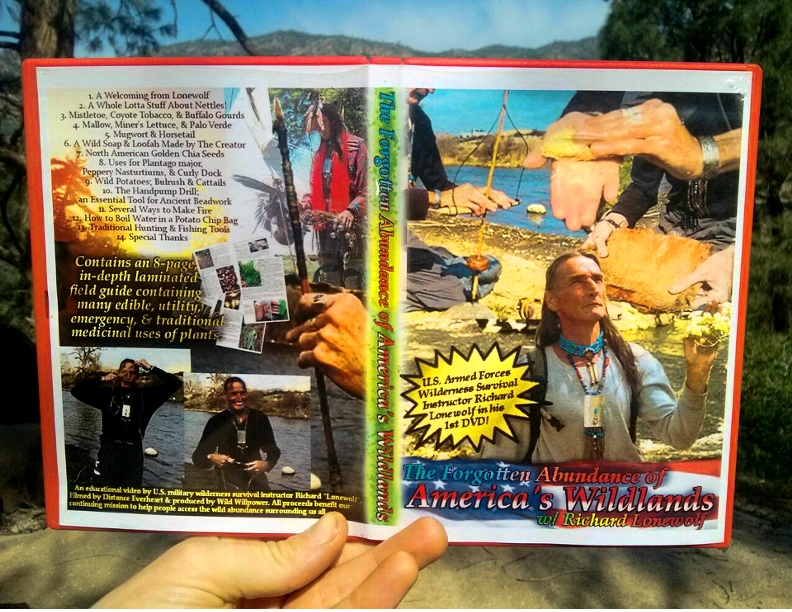 Though just under an hour long, this educational DVD is packed with knowledge regarding the many traditional edible, medicinal, & utility uses of wild plants- many of which you see every day & probably had no clue they were so important.
Here's a scene from Forgotten Abundance; Lonewolf introducing Golden Chia Seeds:
On Cattail roots:
On Soaproot:
He also teaches

several ancient

AND

emergency fire making techniques:


He also gives a tour of
elegantly-crafted, authentic traditional ancient hunting tools

along with insights on how they are made

(ie which types of wood are used, etc.)

:
On the Cherokee War Arrow:
Demonstrating The Handpump Drill:
Boiling Water in a Potato Chip Bag:

The above videos are also featured throughout The Wild Living Skills Database & Smartphone App

on

www.WildLivingSkills.org. By ordering this DVD, you will not only be helping to support the further development of this important tool, but also you will be joining Wild Willpower in one of our other goals: supporting the teachers who make this possible. We look forward to doing higher quality, longer productions in the future as well.
Notice:
After working for many years of studying & data compilation in order to build the many sites & publications which make up our organization, we're currently seeking to raise $4000 to afford to renovate a home base for our organization from where we can self-publish our publications, build cases, and continue building The Wild Living Skills Database & Smartphone App. Please consider offering a contribution

, if able.