Notice!
     Wild Willpower's Petition Drive launches October 1, 2018!!  So that your thoughts, ideas, and insights are considered and integrated into our national plan before the drive is launched, please read the plan and send us your thoughts, questions, & ideas.
***************************
     There are seven parts to the plan at this time— each linked below.  Some links are accompanied by graphics which can also be clicked on to be taken to that section of the plan.  Besides being a "national plan," the following plan reflects our "redress of grievances;" Wild Willpower is an organization comprised of citizens who are dissatisfied with our current state of affairs, so we are acting in accordance with the First Amendment to "Petition the Government for a Redress of Grievances."  See our Petition Drive for more information, or read the plan below:
Part One
Civilian Restoration Corps
     The central core of Wild Willpower's platform is Civilian Restoration Corps ("C.R.C."), an upgraded, modernized public work relief program inspired by the historic Civilian Conservation Corps.  C.R.C. will create millions of jobs to bring clean energy & sustainable living conditions to people from coast to coast and eventually will be implemented overseas.  
There are 3 main types of duties
C.R.C. units will perform:
#1.)  Provide Electrical, Plumbing, & Necessary Repairs to & Clean Energy for Homes, & Rebuild Crumbling Roads & Bridges
#2.)  Native Animal & Habitat Restoration (& Wildfire Prevention!) Projects that Benefit Tribes and The General Populace
#3.)  Planting Diverse, Useful Heirloom & Native Plants throughout Towns & Cities
Part 2
A Common Sense Housing Plan

"An environmentally-friendly solution with a humanitarian approach."
Statistics:
The Proposal Contains 2 Parts:
#1.) Allocate the 18+ Million Abandoned Properties to People Who Want to Grow Their Own Food & Live Sustainably.
Notice: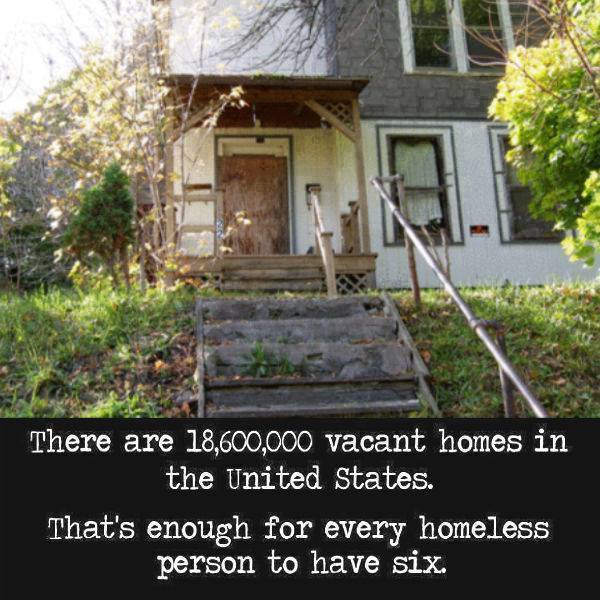 Special thanks to The Mind Unleashed for the above graphic we're utilizing in accordance with Fair Use.
#2.) Re-Allocate the $20 Billion per Year used to fund Section 8 in order to "Buy Out Landlords" & Give Rental Spaces to Tenants:
this plan will reduce taxes more than $20 billion per year!
renters will have an extra $500-1000 in their pocket per month from not having to pay rent which will greatly benefit the economy.
Making the Plan Feasible:
C. R.C. employees will help install electrical, plumbing, & necessary repairs (i.e. foundation, insulation)  and clean energy inventions into buildings involved with this program.
Homesteading Starter Kits include Educational Materials that greatly assist new homeowners on their path toward self-sufficiency and becoming a responsible homeowner.

Part 3
Public Education on the U.S. Legal System, & Urgent Practical Justice Reforms
#1.)  Mandatory Camcorders on Officers & in Government Agencies – footage available to Citizens upon Request, but only by Subpoena for Executive Agents or Agencies.
#2.)  Teach 'Jurisprudence' and 'Pro Se Litigation' in all High Schools.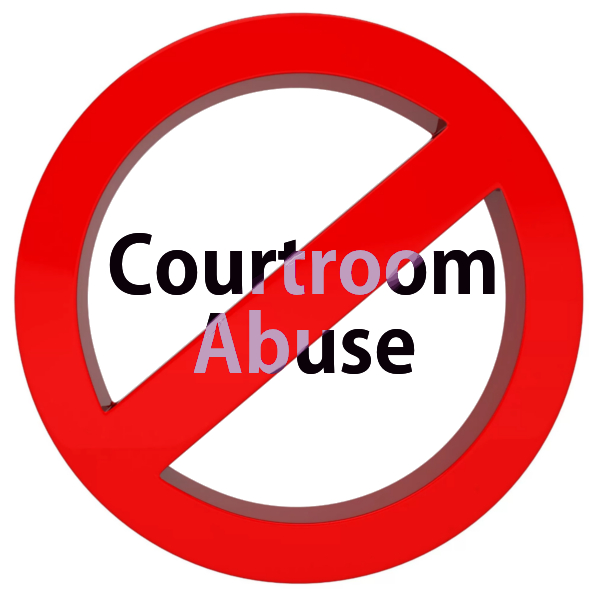 #3.)  Mandatory Minimum Sentences for Color of Law Crimes.
#4.)  Educational Programs for Inmates and other compassionate real-world solutions.
Part Four
A Strategic Plan for Transitioning The U.S. Off Economic Dependence upon Oil & Gas Pipelines
Part Five
Dignified Jobs for Native Teachers

#1.)  Teach Native Languages in Schools.
#2.) Teaching via The Wild Living Skills Database & Smartphone App.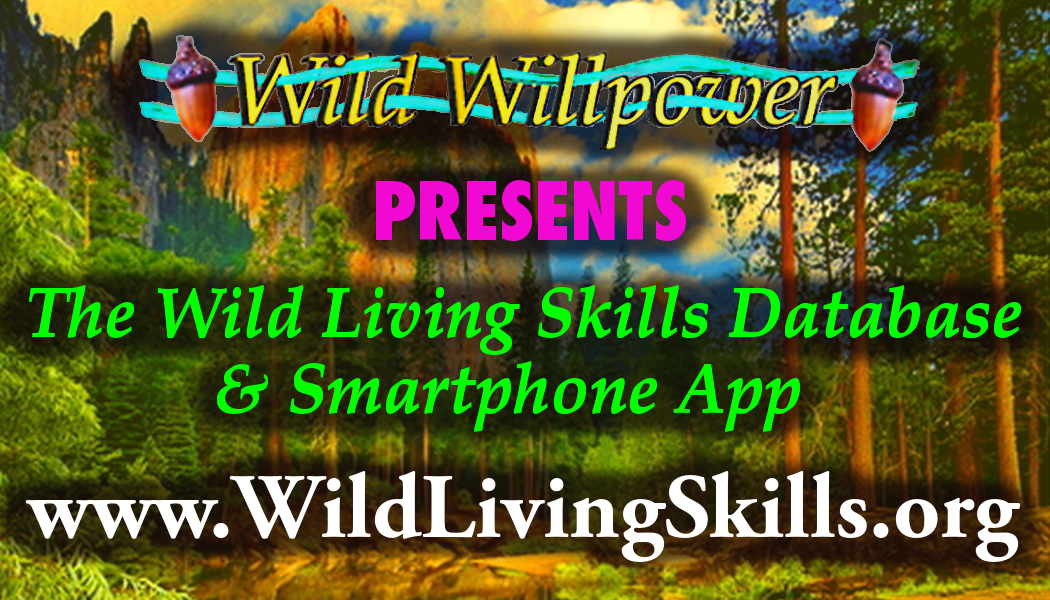 #3.)  Training Wildharvesting Cooperatives in National Forests, Parks, & other wilderness areas.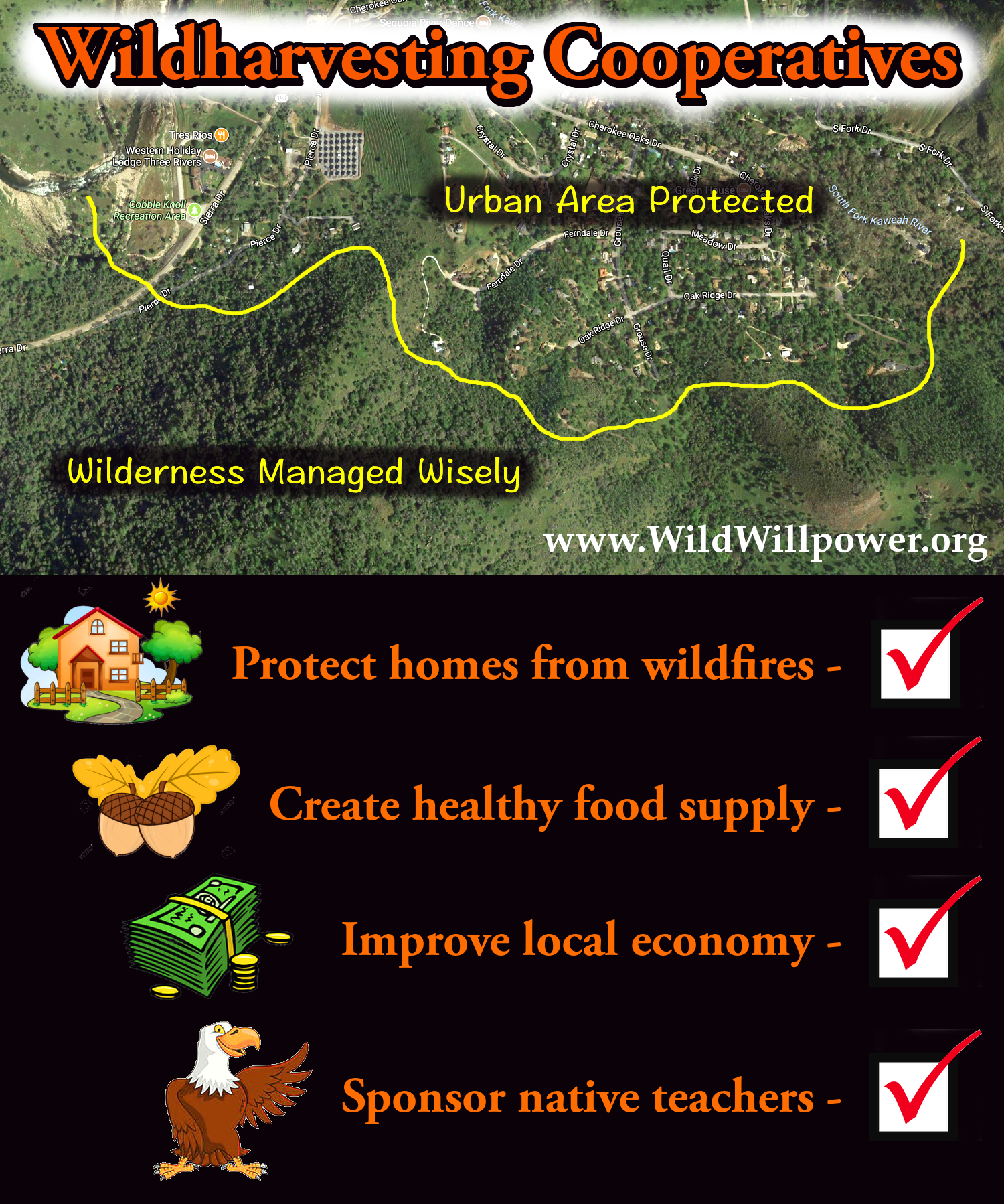 Part Six
The Best of Bernie Sanders' Plan
#1.)  The Bernie Sanders Healthcare Plan – guaranteed coverage to every Citizen while saving the average family ~$1200/year.  Paid family & medical leave paid for by a $1.61/week payroll tax.
#2.)  Tuition-Free College for All – paid for via a small tax on Wall Street speculators.
#3.)  Restoring Dignity & Support to Veterans.
#4.)  Expand Social Security Benefits – paid for by lifting the cap on taxable income above $250,000.
Part Seven
Getting The Military In Line
"The Swords to Plowshares Act"
     Civilian Restoration Corps is a national plan.  "The Swords to Plowshares Act" is to be enacted in the future following the successes & hindsights of C.R.C. in order to implement the same programs internationally via training the U.S. military to create sustainable infrastructures rather than strictly commercial infrastructures.
A very special thank you to WaldenLabs.com for assembling the above commemorative graphic of Buckminster Fuller that we're using under Fair Use.
Thank you so much
for reading through our national plan!  Please contact us if you'd like to offer any feedback before we launch the Petition Drive on October 1st!
********************************
In case you missed them, here are:
Popular Projects
from within Our National Plan:
#1.)  Help Ranchers Convert their Operations to Native Animal Cooperatives
Click to Learn More: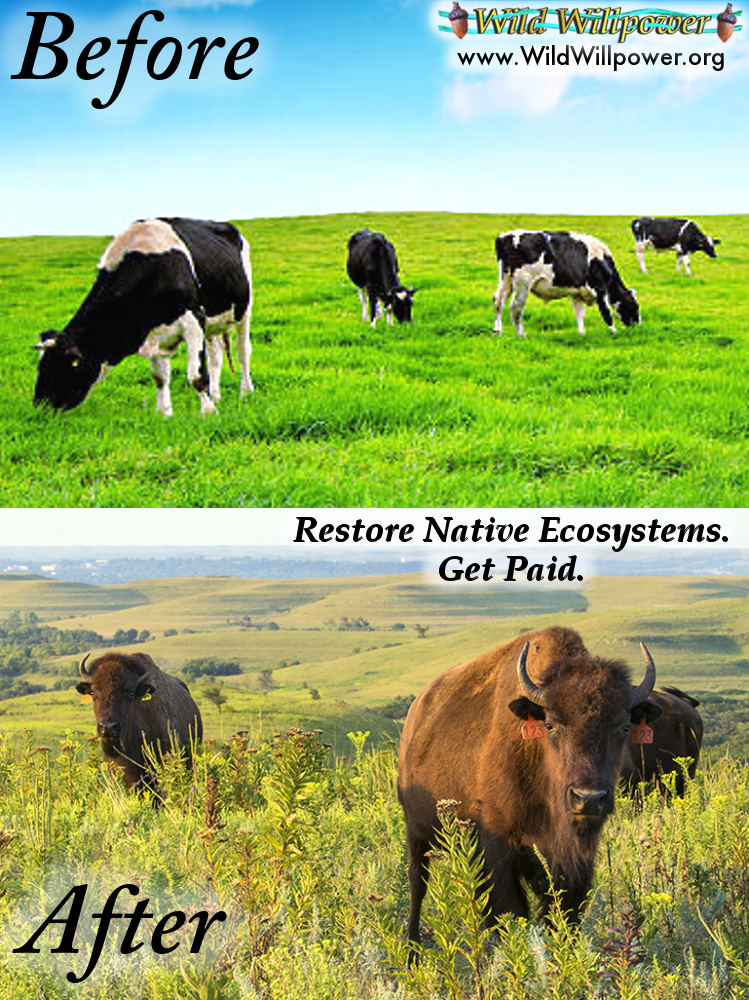 #2.)  Integrate Wildharvesting Cooperatives throughout National Forests, Parks, & other wilderness areas
Click for More: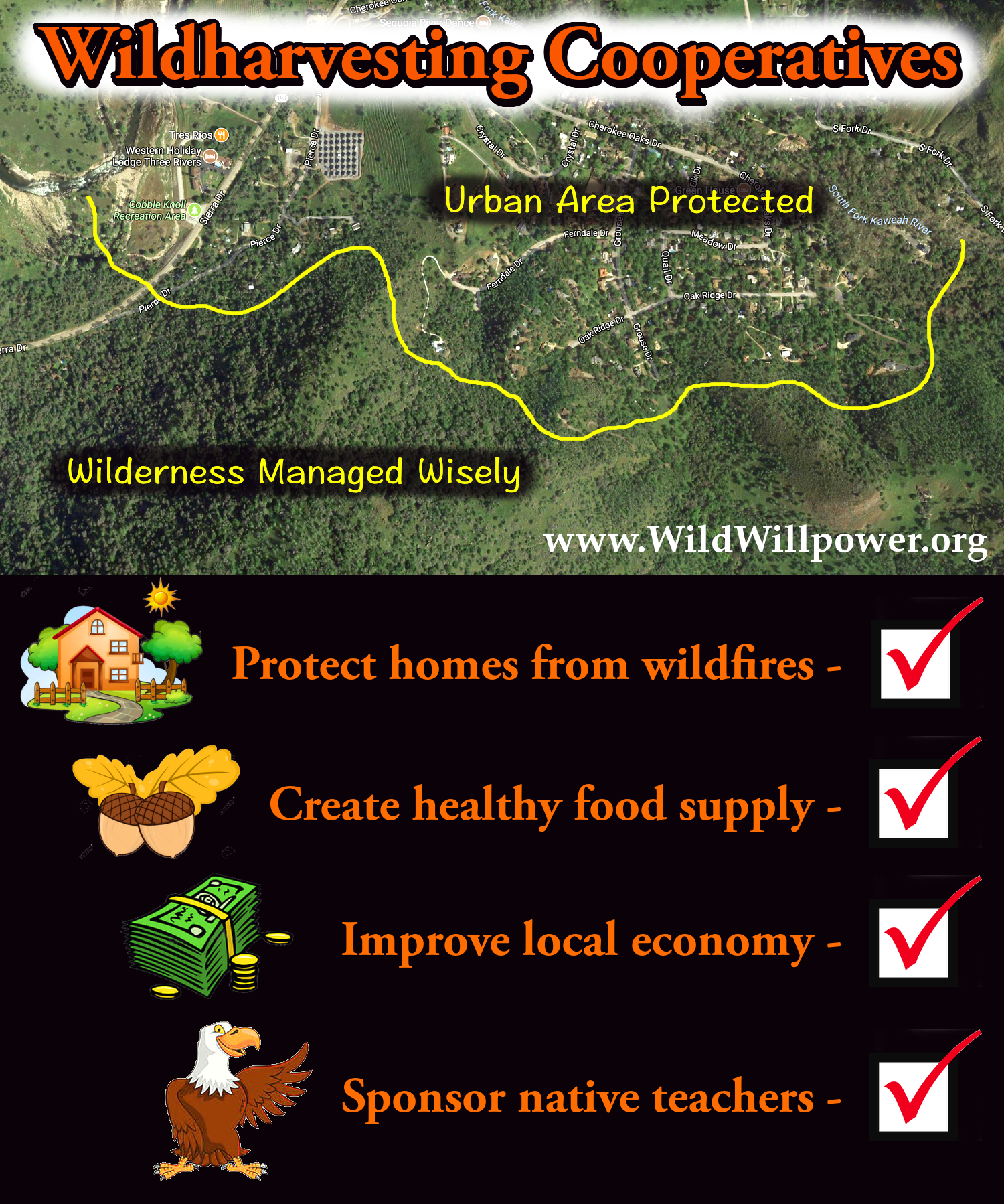 #3.) The Oceti Sakowin Heritage Trail
    To connect Reservations & surrounding communities via developing & planting a national historic hiking & camping trail.
Click for More: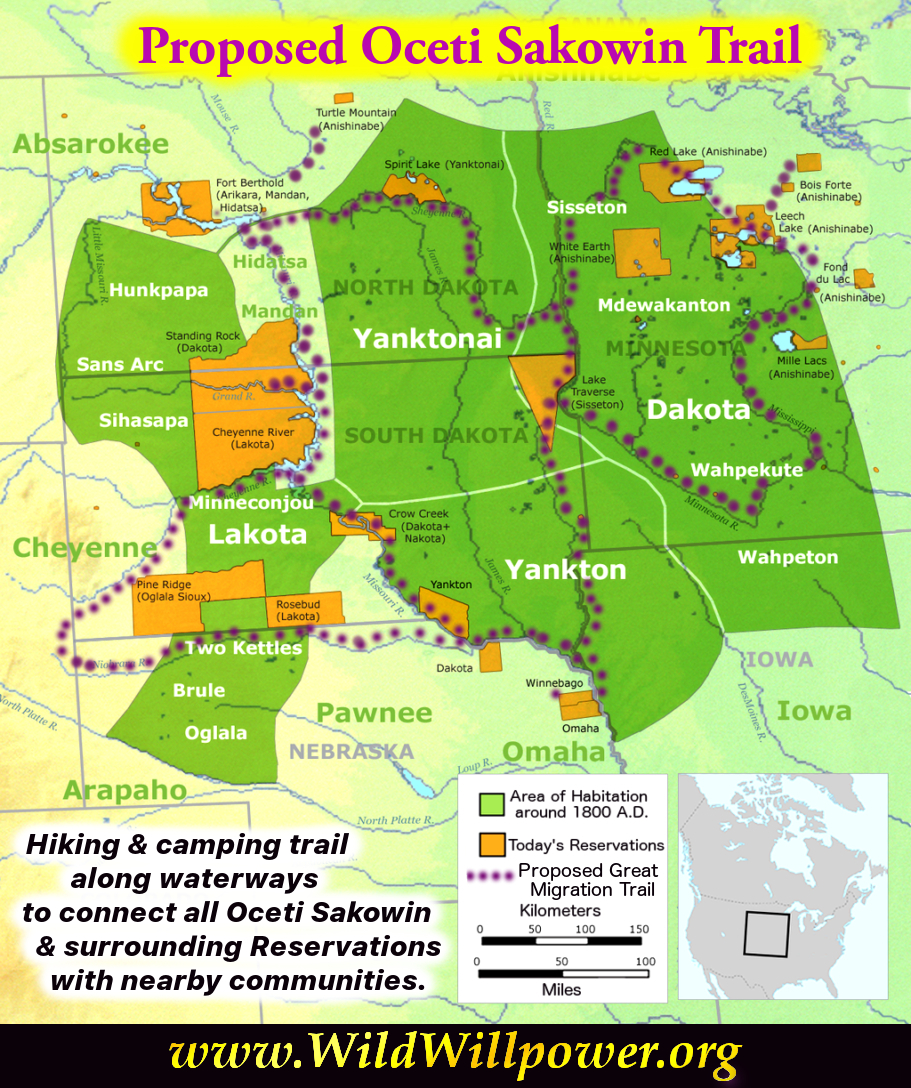 ***********************

Let's Live

Better

.
Love what we're doing?
Notice:
    All aforementioned content, including all copyrighted content which is used in accordance with Fair Use laws has been peaceably assembled for First Amendment purposes, and, in the manner in which it is compiled & with all ideas throughout all our websites being intellectual property solely owned by Wild Willpower.  All content used in accordance with Fair Use is owned by their respective authors.  According to section 101 of the U.S. Copyright Act of 1976 (17 U.S.C. 408), registration of a work with the Copyright Office is not a prerequisite for copyright protection. [5]  Content throughout our sites may not be used without written permission by Wild Willpower PAC (Distance@WildWillpower.org) except for the purposes of promotion of Wild Willpower as an organization.  Thank you for reading through our work.  Truly, your support means a great deal to our team.  We are solely funded at this time by the few people who take the time to support the cause.
Sincerely,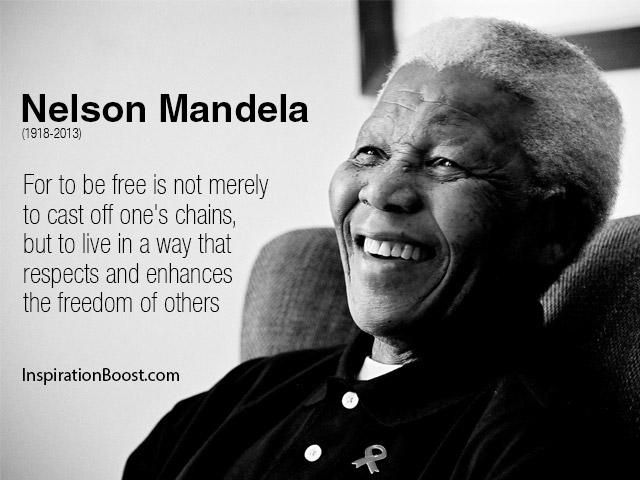 Thank you www.InspirationBoost.com for sharing this exceptional commemorative quote by Nelson Mandela that we're utilizing thanks to Fair Use!
References:
[4]:  "Ten percent of populations owns 82% of real estate, & 5% owns 75% of that land": End Game Research: Federal Reserve Bank data in Left Business Observer, April 3, 1996, p. 5 and Geisler, Rural Sociology 1993, 58(4): 532-546, collected by "The Land Lords: Some Facts": http://www.endgame.org/landlords-facts.html